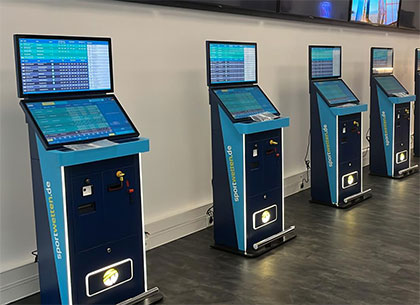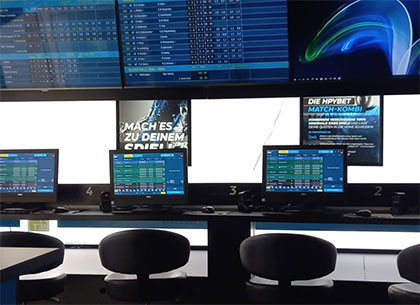 Our Cashier System is a comprehensive, functional system for your own betting shop. It consists of durable hardware and operates with tried-and-tested bookmaking software.
Get a counter PC, receipt printer, and odds display for your shop from a single source. The cashier system is reliable and user friendly. You can rely on a provider who has proven himself in the sports betting business.
Components
Counter PC with up-to-date bookmaker software
POS monitor
Odds display PC with live odds and results display
Betting card scanner
Scanner for checking betting slips
Receipt printer
Customer card and scanner
Bet calculation software for your betting counter
Master function/betting statistics: Overview of all betting slips, detailed view of each individual slip, printing of duplicates possible.
Master function/transaction statistics: All cash balances, canceled bets, and customer payouts are stored in the system and can be accessed at any time.
Digital betting coupon editor: It enables the manual entry of bets, as well as the processing of incorrectly completed betting slips. This guarantees the speedy handling of customers
Live events in large TV screen walls
Live betting odds screen walls
Cashier operator interface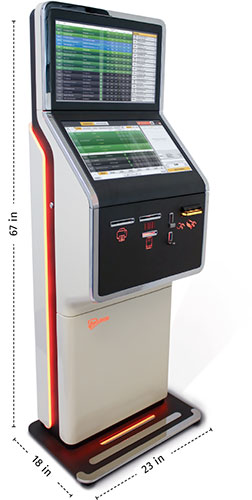 Unbeatable odds key for sports and live betting. The machine works with cash (any currency possible) or with customer cards.
Get a counter PC, receipt printer, and odds display for your shop from a single source. The cashier system is reliable and user friendly. You can rely on a provider who has proven himself in the sports betting business.
Betting terminal
In addition to traditional-style bets at the PoS, we provide self-service solutions in the betting shop.
Modern self-service devices with user-friendly interface.
Latest hardware (NV200) and multi-touch screens.
All-in-one device with ticket scanners.
Payment with cash or customer card.
Top performance and super usability.
Take advantage of Cashout
The new Cashout feature at the terminals allows clients to sell their bets before the game ends. This brings you more sales, more profit and more satisfied clients.
Use Cashout feature at any time – even during the game.
Clear arranged Cashout overview for all open bets.
Partial payment feature: Save partial amount and continue to bet with the rest of the leftover amount.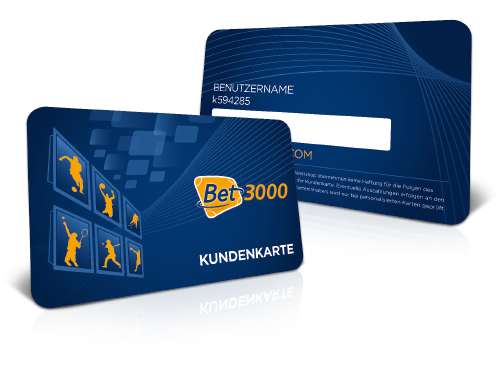 Some of the benefits of the customer card for betting shop owners
The RFID chip provides you with the highest security. If requested, the customer can also receive a personnel PIN.
Your PoS staff/team can concentrate on creating new customer accounts and processing deposits.
Your customers can use their customer account to place bets 24/7, wherever and whenever they want (via the terminal, online or mobile).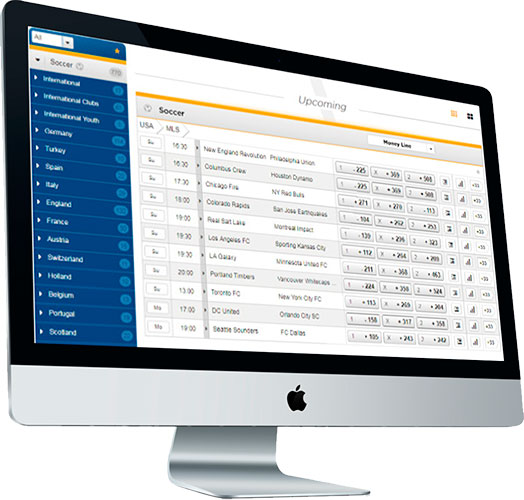 Our online Sportsbook is the ultimate tool for sports betting, which works quickly, effectively, and with excellent usability. It has up to 10,000 game options per day, but beginners and experienced users find it intuitive and easy to use.
Use the complete Sportsbook with our expert odds. Our betting slip is easy to use and provides all the betting options in the quickest possible way. We know what the players need and have designed our web application accordingly. You can define your own odds key, set individual limits and completely customize your sports betting product in any language you want.
Bet extra quick thanks to a sports type filter
Users can sort our Sportsbook betting program rapidly using the unique sports type filter. All betting options are clearly sorted by sports types.
Highlights & personal favorites
The »Highlights« option shows which bets are currently rated as prime events by our sports department. Users can use the »Favorites« function to always view their individual betting preferences at a glance, wherever they are. Both options lead rapidly to the bet placement.
American Football
Basketball
Baseball
Ice Hockey
Soccer
Tennis
Boxing
Mixed Martial Arts
Motorsports
Golf
Rugby

Handball
Volleyball
Waterball
Table Tennis
Bowls
Cycling
Beach Volley
Aussie Rules
Pesapallo
Floorsoccer
Futsal
Beachsoccer
Darts
Snooker
Badminton
Bandy
Floorball
Wintersports
Curling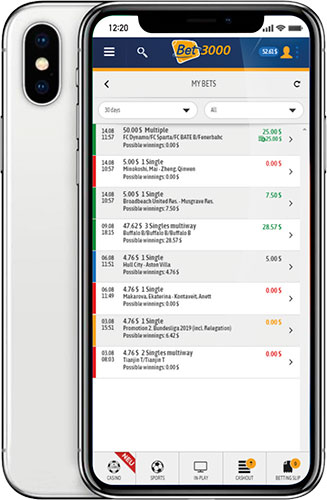 Our intuitive and self-explanatory apps run on all device types. We are continuously adapting our applications to new technical requirements, trends and user requirements.
Available for IOs and Android
Take advantage of Cashout
The cashout list is a new betting entertainment feature for online users and is permanently updating in real time.
The online user can choose between maximum cashout or partial cashout.

Whenever the online user is ready to cashout, he simply hit the green button.

All cashout offers at a glance.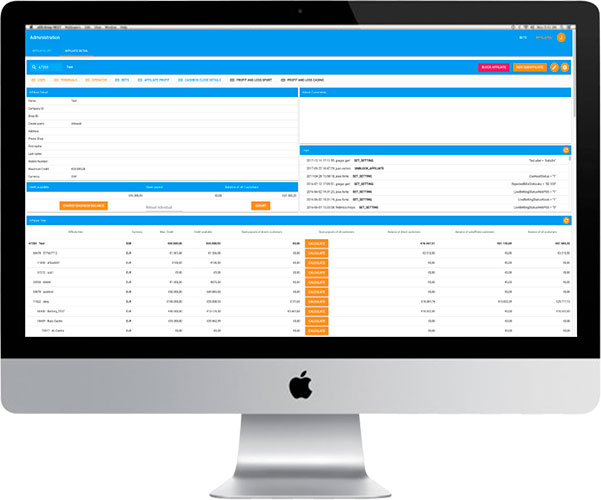 The Surhive solutions for your online services cover all areas of bet placement, settlement, and management of your online customers.
From the Adminstration Online Software you can control every aspect of your business.
You can create and export business reports, statistics, and metrics.
It includes
Reporting software
Monitoring software
Cash Out
Cash Out lets you take profit early if your bet is coming in, or get some of your stake back if your bet is going against you – all before the event you're betting on is over.
Cash Out offers are made in real time on your current bets, based on live market prices. Whenever you are ready to Cash Out, simply hit the green button.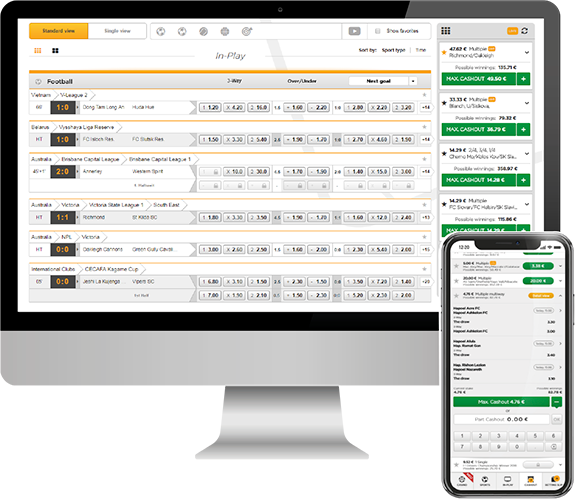 Careers
We're looking for some serious talent. Think you have what it takes?
JOIN THE CREW